Golden Retriever Rescue

Delaware Valley Golden Retriever Rescue
60 Vera Cruz Road, Reinholds, PA 17569
www.dvgrr.org
717-484-4799
Serves: Eastern PA, northern DE, northern MD, NJ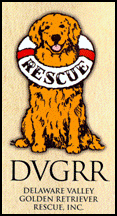 DVGRR was founded in 1994 to provide new beginnings for displaced Golden Retrievers. We presently serve in Eastern Pennsylvania, New Jersey and parts of Maryland and Delaware. Additionally, we help other Golden Retriever rescue groups throughout the United States. In 2012, we brought in 20 Golden mixes from North Carolina, and so far this year we helped rescue 11 Goldens from Arkansas, now known as the ARK 11. During the holiday season, the Lenape Golden Retriever Club helped save a young puppy that had been dosed with flea preventative and had seizures. The owner could not afford to cover the expense to vet the pup, so when the family left him at the emergency hospital to be euthanized, Lenape GRC stepped in to cover the medical expenses necessary to diagnose the problem and overcome it, and made it possible for him to be rescued by DVGRR. Rudy has completely recovered and has been adopted by one of our volunteers.

When we take in new Goldens, we put them through a thorough analysis. Our volunteers help those who are shy or scared to build confidence. Where there may be soft spots in their training we gently work with them, encouraging them to be respectful of people and other dogs. We even test their attitude with cats and kids before we send them to their new forever homes. We hold fund raising events, as well as fun events for our adopted Goldens and their families.

We at DVGRR remain deeply committed to serving our special constituency throughout our footprint. Our highly qualified and professional staff members have done an excellent job of making DVGRR a well-respected name in the rescue and care of Golden Retrievers.

Benefits of becoming a DVGRR Member:
Boarding for your Golden Retriever and canine family members
10% discount in our store, Pap's Place or on line
Golden Opportunities – our award-winning newsletter published four times a year

Visit our web site, better yet, come visit Golden Gateway for a campus tour and get acquainted with our Golden residents. We hold a Meet and Greet every second Saturday of the month between 10:00 and Noon.

Join us. Become a volunteer. Donations are freely accepted.